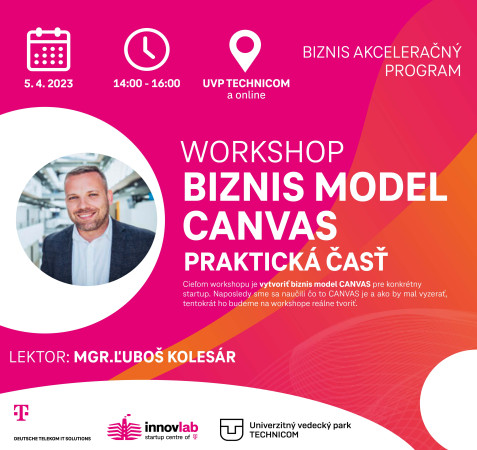 Innovative idea competition
Events
11/15/2021 - 12/17/2021 5:00 PM
Do you have an idea you wish to develop? Is your project at a stage when it is ready for rapid growth and needs support?
The Startup center TUKE offers you the opportunity to join a competition of innovative ideas, projects, and business solutions.
The competition is open all year round. Every 6 months a group of new startups is selected. You can submit entries for the 14th round of the contest by December 14, 2021. The 14th round of the contest will be held on December 17, 2021.
The evaluation committee may be based on the level of development of the startup, propose its transition directly to the Incubator TUKE.
Application for the competition
To participate in the competition, you need to fill in the registration form, which you can find under the "How to join" section in the menu above.
Projects will be judged by an expert commission. After evaluating registered projects, selected teams will be invited to pitch their ideas to a professional jury. We will inform the teams about the place and date of presentations within two weeks after the registration deadline.
What can you get?
The Startup center TUKE offers:
free spaces in Startup center TUKE,
the possibility of using the capacity of unique professional laboratories, and other facilities at TUKE,
help with creating a business plan, acquiring partners, searching for potential investors and other benefits,
expert and mentor support (both general and raw materials).
Projects in the pre-incubation phase (e. g. at the stage of forming an idea), from any part of Slovakia, as well as foreign projects that are planning to carry out their activities in Slovakia, are eligible to apply. For more information, see FAQs (Frequently Asked Questions).
Achievements
Starting in 2014, TUKE's Startup center hosted 35 startups with great innovation potential. Several of them succeeded in receiving seed investments and launching a number of successful products in both software and hardware solutions. For example, CropTech – winners of Startup Awards, Fitliner Training – 2016 Young Entrepreneurial Entrepreneur Finalists, VIZUALIZACKY – winners of Business Idea 2014 of Tatra Bank Foundation, Chargebrella – winners of Business Idea 2016, EFEOS – The Creative Business Cup, and many more.
Learn more about them in the "Startup" section.