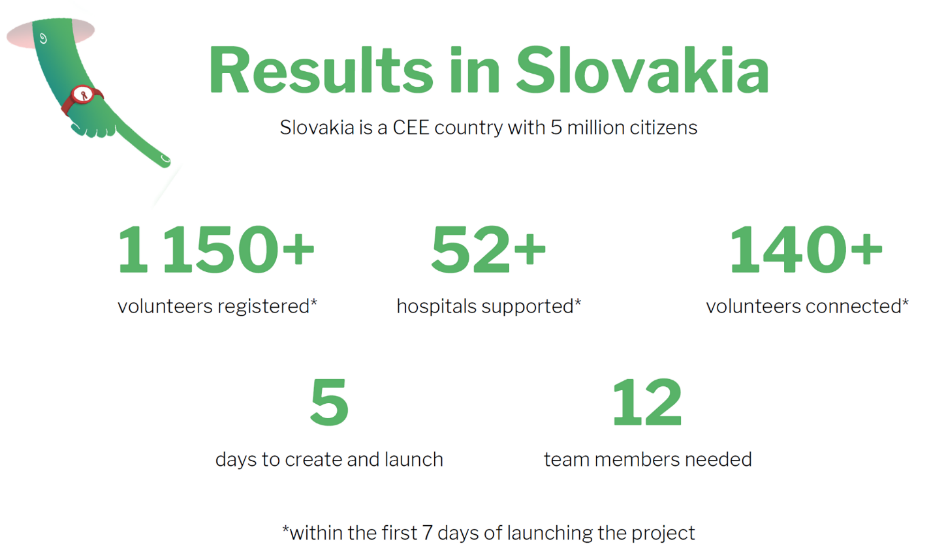 Help our health systems withstand the COVID-19 pandemic! or any next oneLet's have a look at the key highlights which determine this project as very successful itself.
Within the first 7 days of launching the Platform project, incredible 1150 volunteers were registered, 52 hospitals in Slovakia supported this initiative and 140 volunteers have been effectively connected to the platform.
This Online Platform Stands On 3 Pillars
1) Gathering medical volunteers (medical students, future nurses, future rescue workers, au-pairs, practicing doctors with non-essential focus, pharmacists, midwives, lab assistants, biology students, etc.)
2) Connecting medical volunteers with institutions providing healthcare services and support (hospitals, nursing homes, laboratories, etc.)
3) Educating medical volunteers via videos and guidelines. Our colleague,Milan Varga, Lead of Innovlab was the one who stands behind this idea. He was awarded in the Country Favorite Award for this achievement. Let's ask Milan how was this idea created and what was his motivation to go for it.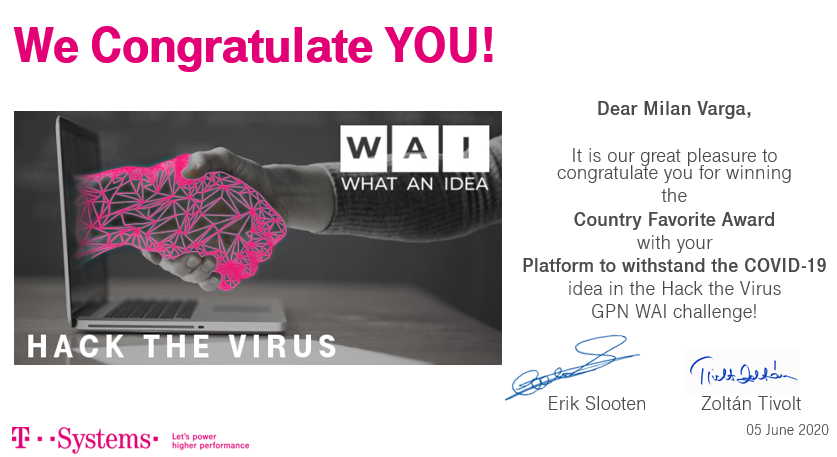 1. Milan, can you tell us, how was this incredible idea created?
"The idea was created during the online public hackathon focused on fighting the pandemic issues. I saw it as a big potential to create such a useful solution for COVID 19 in this pandemic situation. EU healthcare systems are facing several problems of having gaps and limited capacities for medical staff, so this newly established platform could be a perfect supportive initiative in fulfilling the important business needs. I found it very interesting for future growth, and therefore I have immediately contacted the team and we have arranged our cooperation."
2. What was your motivation?
"We wanted to help our region in COVID-19 times with something really useful from an IT perspective. I was so lucky when I found this practical solution that turned up to a very useful in the end. Nevertheless, I was hunting for new business opportunities with startups too"…:).
3. Did you already get some positive feedback from users?
"Yes, of course, we are proud to be able to support the We Are Ready initiative  (smepripraveni.sk) and a platform project that connects health volunteers with the institutions that need them. And presented numbers are telling the success story itself".
"Milan, I am very proud of your other accomplishment, please stay on this perfect road. Thank you for bringing and creating the best IT solutions, your open-mindset, and your keenness to go any further miles in the next business coming challenges. Having you in the Innovlab team is an absolute pleasure and I am very happy for your extraordinary support".   Peter Hevery, Vice president of Growth Portfolio.